I arrived at Heathrow Terminal 5 to be told by British Airways that they had over sold the flight and I was on standby.
I was mad! If a number of people don't turn up for a flight as BA claimed I can understand selling more seats. But I objected to being on standby when I had a confirmed seat, my flight was the first of a round the world trip and as such was non changeable and non refundable.

I explained to the duty manager I was extremely displeased with the situation and I was eventually offered a seat on the flight with just 45 minutes to get to the gate before the plane was supposed to leave. However with so many late arrivals at the gate they hadn't a hope of leaving on time and we eventually took off an hour late.

I'll think twice before flying with BA again.

Rio was mostly grey and cloudy for my stay. I was fortunate to have an day when the sun came out and I took a trip to the city centre in the morning and an afternoon at Sugarloaf. On my last morning in Rio the sun came out again and I grabbed the chance to take a trip up to the Corcovado.

In central Rio my first stop was the Candelaria church. Legend has it that at the start of the 17th century a Spanish ship called the Candelaria almost sank in rough seas and upon arrival in Rio de Janeiro the sailors paid for the church to fulfil the promise they made during the storm.

Repairs to the church lead to considerable enlargement in the 18th and 19th century.

Sugarloaf mountain (or Pao de Acucar) is one of Rio's most famous sights. The peak is 1300ft high and one of several in the area.

A cable car was first installed at Sugarloaf in 1912. It takes two stages to reach the top. The first car climbs up Urca hill with views of the Cordovado (as long as the weather is fine) and the second takes you to the top for the grand views of Copacabana beach.

The Christ Redeemer of Corcovado is another of Rio's world famous attractions and was voted one of 'the new seven wonders of the world' in 2007; although millions of dollars were spent in an effort to promote voting for the monument.

The 125ft statue sits at the top of a 2329ft
mountain
. A small railway train takes passengers close to the top; the final ascent can be made by escalator, elevator or over 200 steps. From the top there are splendid views of Rio on a clear day.

The statue is made of concrete with an outer layer of triangular soapstone pieces. Construction took nine years and the statue was opened on October 12, 1931.

In February 2008 the statue was struck by lightning during a violent storm but was protected from damage by the soapstone which is an insulator.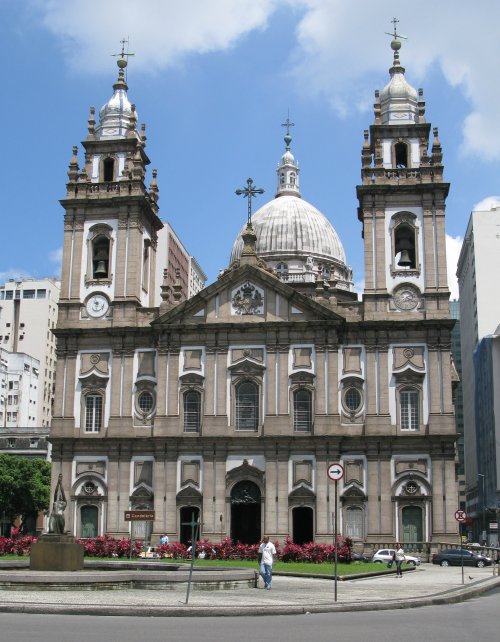 The Candelaria church in central Rio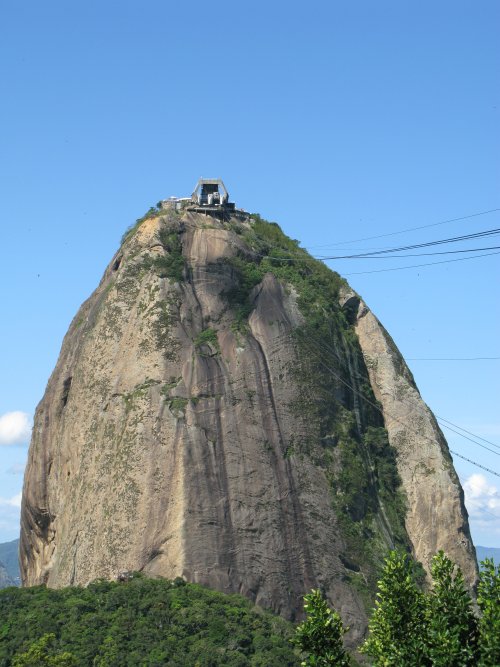 The famous Sugarloaf mountain and cable cars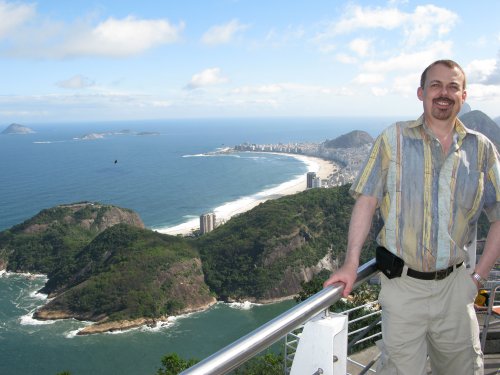 At the top of Sugarloaf with the Copacabana beach behind me

The statue of Jesus looks down on us at the Corcovado