Occasionally you are presented with an opportunity, a second chance if you like, to do something you never thought you'd be able to do.
Back in 1974 A band called Sparks hit the UK singles charts with a track called 'This town ain't big enough for both of us'. It was the opening track on their 'Kimono My House' album. For many, this is the defining Sparks album, the recording that made oddball brothers Ron and Russell Mael pin up superstars.
Kimono My House was the third album Sparks had released. Russell's high pitched voice, Ron's sly, witty lyrics and a quality backing band made for a pretty unique sound and I was hooked.
However, I was only 13 and if my parents had even liked the band (what parents ever like the music their offspring enjoy?) there was no way you'd have caught them going to a concert. This is where opportunity comes in.
30 years and around 20 albums later, Sparks had been on tour promoting their new album Lil' Beethoven. In a twist of fate, MORRISSEY'S MELTDOWN was scheduled at London's South Bank Centre in June 2004.
Morrissey apparently was also a great fan of Sparks and on June 12th 'the legendary SPARKS, whose imaginative drive throughout a career spanning three decades has seen them turn every pop convention on its head' played at Meltdown. For a one-off Meltdown-only show, the brothers performed their phenomenally successful 1974 album Kimono My House and 2004's critically acclaimed Lil' Beethoven, both in their entirety.
And I was lucky enough to see them play.
Hearing Kimono My House played live in it's entirety, followed by Lil' Beethoven, was quite something. It seemed the critics agreed. 'Sparks Fly!' quipped the NME; 'Sparks light up London' was the Independent newspaper's headline.
Kimono My House was presented as a fairly standard concert with the visuals echoing the Geisha theme of the original album artwork. Lil' Beethoven however had a much grander vision, with lush visuals to accompany the music and lyrics for songs such as 'My Baby's Taking Me Home', Your Call's Very Important To Us, Please Hold', and 'Ugly Guys With Beautiful Girls'.
In December 2007 Sparks announced what is probably another first. Raising the game, Sparks have decided to run a 21 night spectacular - 21 albums in 21 nights including their new album - in May and June 2008.
See you there.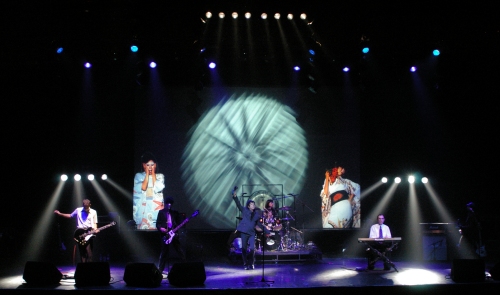 The band come out for Kimono My House

Russell sings, Ron looks bored

How Do I Get To Carnegie Hall? (practice man, practice)

My Baby's Taking Me Home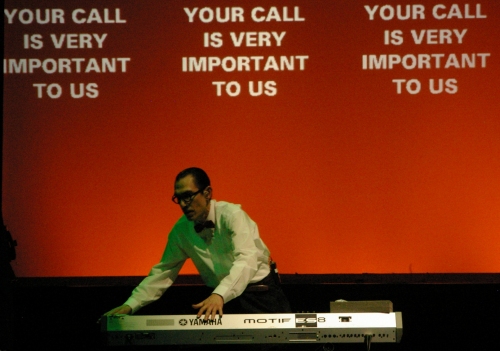 Your Call Is Very Important To Us (and then she said 'please hold')

Ugly Guys With Beautiful Girls (you always know what the story is)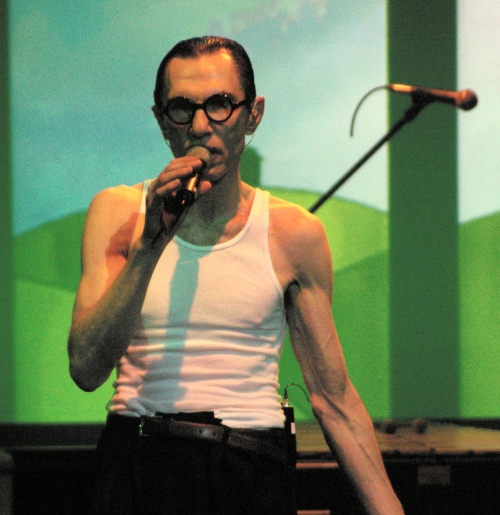 (I am a) Suburban Homeboy (with a suburban ho right by my side)