A short break at Easter to revisit Berlin.
The weather was freezing with occasional flurries of snow, so I wrapped up the entire time.
On this visit I found a few more of Berlin's famous 'buddy bear' statues to pose with. The first is a bright yellow bear that welcomes you to Berlin.
Another light blue bear wears the European stars and flags of the member countries. The EU likes to call the member countries 'states' but I find that term somewhat unsettling.
By a neighbourhood cafe I found a buddy bear in his business suit.
Strolling through Berlin I passed the remains of the Berlin Wall. As I mentioned on another page, the wall now has to be protected from souvenir hunters by a metal fence.
I also passed by the Berlin Cathedral. The current building is a little over 100 years old, although there have been churches on the site since the Middle Ages. The Berlin Cathedral has never been a cathedral in the actual sense of that term, since Berlin, let alone this Cathedral, has never been the seat of a Catholic bishop. The current building's foundation stone was laid in 1894 and was completed in 1905.
The main building was heavily damaged during the war and could only be used again in 1993. The main dome and the four top tower sections were originally steeper and elaborately decorated.
My last stop on the walk was an entertaining place with a large scale model of the centre of Berlin. I wish I could remember the name of the place now! The buildings, trees, bridges and waterways were faithfully reproduced in miniature. Its a great way to familiarise yourself with the city too.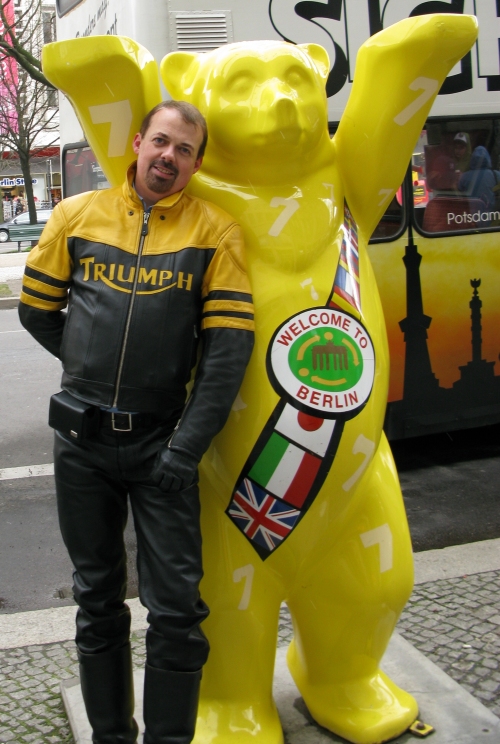 This bright yellow buddy bear welcomes you to Berlin



The Euro buddy bear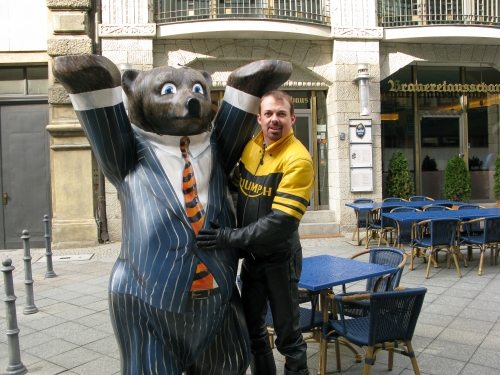 A businessman buddy bear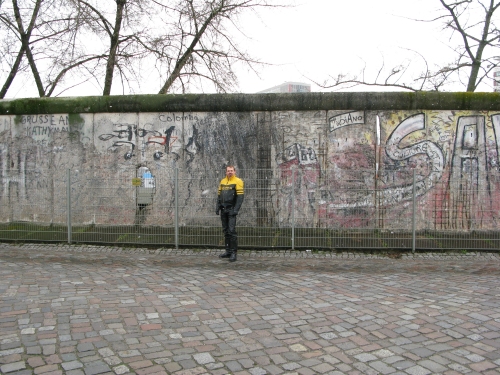 A preserved stretch of the Berlin Wall

The Berlin Cathedral with the telecom tower in the background

A model of the Reichstag building