After seeing Gary Numan in concert at the Hollywood Forever cemetery in 2013 I thought I'd take the opportunity to catch another of his shows at Belly Up, Solana Beach.

Unlike the Hollywood Forever show the ticketing system for Gary's current tour didn't seem to be that well organised. The VIP tickets are handled by Townsend records in the UK and of course there is the compulsory service charge / booking fee. You then need to buy a ticket for the show at the venues website separately (along with another compulsory service charge). In contrast, the Hollywood Forever ticketing was far better managed.

I was starting to panic as I hadn't received any information on the VIP meet and greet and didn't know when I would need to arrive at Solana Beach. Fortunately an email arrived at 10am with all the information.

I arrived at the venue at 5.45pm and all the other VIP guests were waiting outside. We were issued with our VIP passes and escorted into the venue. This meet and greet was a much more informal affair than the Hollywood Forever venue; everyone stood around and chatted with Gary, took photos, and had a few Numan items signed. Gary's girls were there and I gave them a gift of Despicable Me 2 minion keyrings.

After meeting and chatting with Gary we were escorted out of the venue to wait until the start of the show. Gary had two support acts, Roman Remains and Big Black Delta. Roman Remains were a great start to the show, but Big Black Delta was a let down. Almost a karaoke act, Big Black Delta was a singer, drummer and Apple laptop. Not quite my idea of a live performance.

Gary put on a great show, including the tracks I am Dust, Lost, and the title track from his current Splinter album along with the classics; Cars, Down in the Park and Are 'Friends' Electric?

I met met with some Numanoids from the Hollywood Forever show, including San Diego local Leon and Eve from Reno. I made a few new friends too, such as the delightful Deity and Joey from Calgary.

I now have enough autographed Numan memorabilia to start a small Gary Numan shrine.

Gary signed some of my Numan memorabilia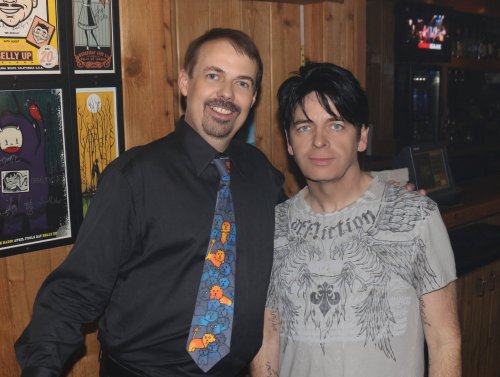 With Gary at Belly Up, Solana Beach, CA

At the soundcheck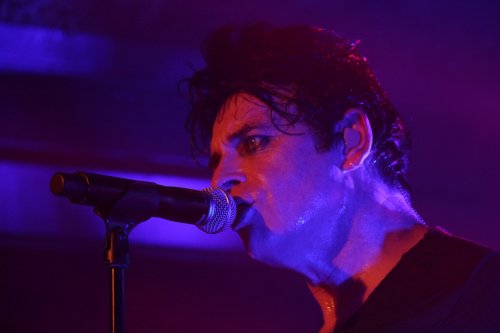 Gary performs