Living in Palm Springs certainly offers plenty of opportunities to meet stars and celebrities. Having met Jackie Collins in 2013 at a book signing in Palm Springs (at the aptly named 'just fabulous' bookstore) I was keen to meet her sister Joan.

Joan had recently been made a Dame by Queen Elizabeth II and was appearing at 'The Hollywood Show' in Los Angeles. The Hollywood Show was hosting a 'Dynasty' reunion as part of a larger gathering of celebrity appearances.

Many people remember Joan from the character of Alexis Carrington in Dynasty, but I remember her appearance in the original series of Star Trek episode 'The City on the Edge of Forever' as Edith Keeler; the early 70s film 'Quest for Love', and classic British 'Cinzano' TV ads.

I was one of the first in what became a long line of people eager to meet Joan, who appeared with her husband Percy Gibson.

When I asked Joan if she would sign a photo 'lots of love' she said 'I can't do that, I'm with my husband!'. So I smiled at Percy, said hello, and replied 'that's why I didn't ask you sign the photo all my love!'

Joan compromised and said 'I'll sign it love Joan'. Joan remarked that she hadn't seen the photo I asked her to sign before; I usually try to find an interesting and less well known photo for my collection.

As we chatted Joan said 'you're from England! That's why you're so well dressed!' which pleased me greatly. But I did feel sorry for the folk dressed in jeans and T shirts. Joan and I are both English, and as Joan had recently been made a Dame I felt it appropriate to dress smartly!

After a delightful time with Joan I met another English actress, the charming Stephanie Beacham. Stephanie also appeared in Dynasty and, like Joan, had made an appearance in Star Trek; in this case The Next Generation episode 'Ship in a Bottle' as the holographic character Countess Regina Bartholomew.

Despite the Dynasty reunion the Hollywood Show must have recognised there was a Star Trek connection with some of the stars that day as Nichelle Nichols, Uhura from the original Star Trek series, was also in attendance.

Many people don't know that Nichelle had a career as a singer with Duke Ellington and Lionel Hampton before turning to acting.

I had Nichelle sign her original 60s vinyl album 'Down To Earth' for me.

Some of the other actors at the Hollywood Show included the surviving cast from The Poseidon Adventure (the 70s was a great decade for disaster movies!). I had the blu ray steelbook of the movie (it had been on sale for a bargain price of £4.99) and had it signed by some of the members of the cast.

At the top left of the steelbook is Eric Shea's signature. Eric played the young boy Robin in the movie that knows everything about the workings of the ship.

To the right is Carol Lynley's autograph. Carol played the part of the young singer, Nonnie, that struggles to come to terms with the death of her brother after the massive wave turns the Poseidon upside down.

At the bottom we have Pamela Sue Martin's signature. Pamela played Susan Shelby, Robin's older sister. In the movie all three characters lived through the ordeal.

My final stop that morning was to say hello to Sven-Ole Thorsen.

Sven is a friend of Arnold Schwarzenegger and has appeared in many of his movies. Sven also appeared in The Hunt For Red October and Gladiator.

Sven is quite a giant at 6'5" tall. Born in Denmark, winner of Denmark's Strongest Man in 1983, and a black belt in Shotokan karate. He's also dated Grace Jones.

Meeting Sven I said 'Hello Sven. Are you a 21st century guy?' He said oh yes he was. I explained; the reason I ask is that I have a photo here I'd like you to sign, but if your offended or anything do let me know.

Sven was quite curious!

I mentioned I try to find interesting and unusual photos for stars to sign. The Scandinavian TV guide and celebrity magazine 'SE og HØR' had published an article on Sven and he had posed nude for their 'centrefold'.

Sven laughed when he saw the photo and was quite happy to sign it for me 'love and peace - Sven'.

Kudos to Sven for being such a good natured and fun person to meet.

Meeting Dame Joan at the Hollywood Show

One of the photos Joan signed for me

In the company of the charming Stephanie Beacham

With Nichelle Nichols - Uhura from the original Star Trek TV show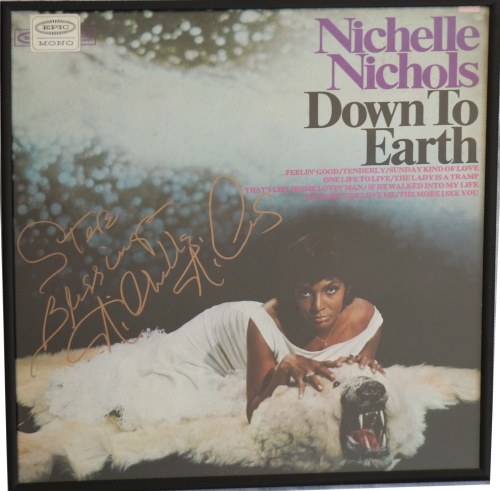 Eric Shea, Carol Lynley and Pamela Sue Martin signed my Poseidon Adventure blu ray

Meeting Sven-Ole Thorsen, the 'Great Dane'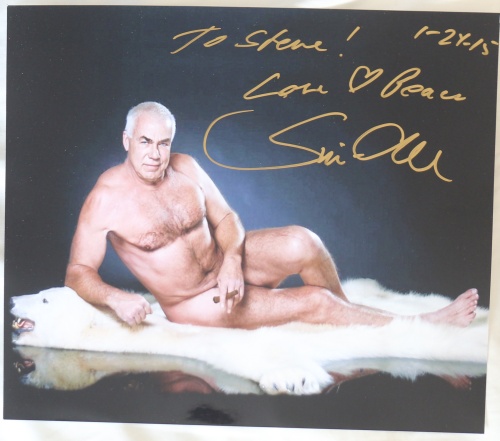 Sven's nude centrefold, signed 'love and peace'