I had a week free between jobs and was looking for somewhere interesting to visit that wasn't too expensive. The best deal seemed to be Istanbul - and my friend Chris came along with me.
Those of you that have been to Istanbul and liked it better move on now, as I wasn't that impressed.
The flight was pleasant and arriving late at night a thrill went through me as we made our way to the hotel, an unassuming but perfectly acceptable place close to the railway station and the main attractions.
Next morning we started on a day tour of the city. I'd forgotten how boring some English people can be, moaning on about the slightest things (not realising how much I'd be complaining before the end of the trip!). In the case of an Essex couple, the husband delighted in telling us, time and time again, how he'd changed buses three times and been driven around for an hour finding our tour.
The tour moved swiftly but pleasingly, taking us to the sights of the Haghia Sofia, Blue Mosque, Hippodrome, Bazaars and after lunch to a Bosphorous cruise. It was a beautiful day and the tour shielded us from some of the less attractive elements of Istanbul. I encountered a few people trying to sell me some really cheap looking fake socks with a 'Boss' label, fake perfumes, rugs and some of the worst fake 'designer' clothing I've seen (T shirts, jeans and so on), but it wasn't all that bad.
That evening we went to the Cagaloglu Hammam (or Turkish Baths) and for me this is where the rot started to set in. I'd read some truly glowing reviews of the Cagaloglu - including the noteworthy praise that it was listed as one of the 1000 things to do before you die! - and was ready to be transported to a nirvana of newly awakened senses. The Sultan Supreme says you will feel reborn and more than one review said that an hour and a half of foaming, massaging, scrubbing and pummelling awaited me.
I think I took a wrong turning on my trip to nirvana. Although the decor is impressive, a little over half an hour after entering I was back out and ready for the street.
The was a few minutes of rubbing, a light scrubbing (I was expecting to have the skin stripped from my body from the reviews), a foaming up and then water thrown over me. The highlight was a short wiry Turkish chap walking up and down my back.
The Cagaloglu baths website is here. I believe women fair better than men, or maybe you just have to go early, or on the right day. However, if you are looking for a good time in London, you could do better than visit Ironmonger Row baths in the City of London. The Independent voted it 8th in the top 50 swimming baths in the world!
It has a Turkish Bath that I admit is not as splendid visually as the Cagaloglu. There's a steam room, three hot rooms of varying temperature, an icy plunge pool, and massage is available. Have a look at their website here. I think Ironmonger Row spoiled me.
After an evening meal of kebabs we decided to try our hand at the local bar and club scene. I quickly discovered that, wherever you ask a taxi driver to take you, you usually end up at or near Taksim Square. They just don't seem to know anywhere else. The next learning experience was not to accept any offers from anyone, no matter how pleasant or friendly, to take you to a place of entertainment. Chris and I were approached by two men that offered to show us a great bar. Admittedly it could have been worse - mugged, robbed, beaten, murdered - but I was worried when one told us this bar had lots of lesbians! Needless to say this was just a ploy, on entering I could see it was a typical 'clip joint' with a number of young ladies on stage with expressions that bore a striking resemblance to the Stepford Wives.
From a rather lacklustre evening very little of interest followed. I became very tired of the constant unwanted attention from people that just want to part you from your money. In a city with so much culture, it seemed that pretty much everyone has sold themselves out for cash and I was so very disappointed.
There was one final highlight of the trip though. The Sufi 'Whirling Dervishes'. Sufism is an Islamic spirituality or mysticism, and the Dervishes whirl around in a trancelike state. I would have liked to go and see some belly dancers too, but Chris wasn't interested.
My little trip to Istanbul worked out to be very expensive and underwhelming, hence the lack of interest in putting lots of extra detail about the sights of the city. Perhaps my experience was a bad one, but I know I'll not be rushing back!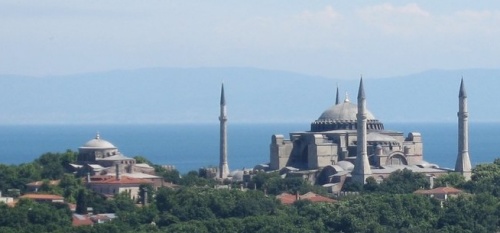 The Haghia Sofia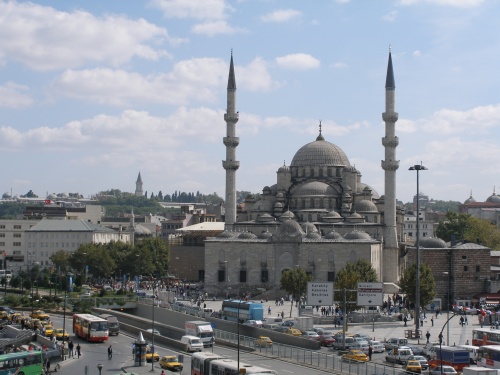 The New Mosque

The Egyptian Obelisk at the Hippodrome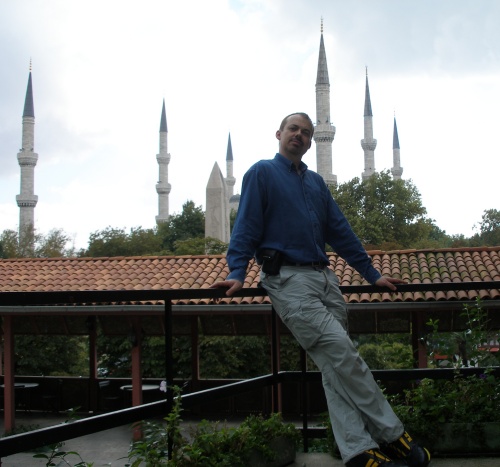 Chilling by the Hippodrome

The Galata Tower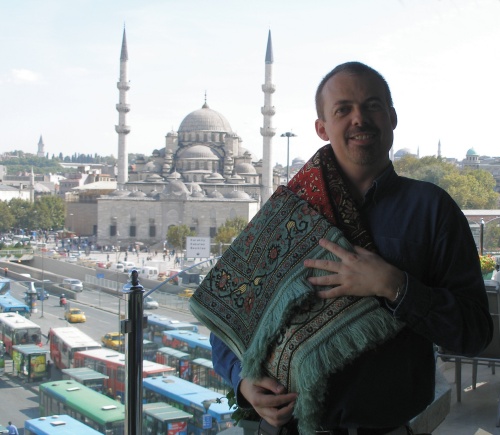 Would you like to buy a carpet? Or two? Or three?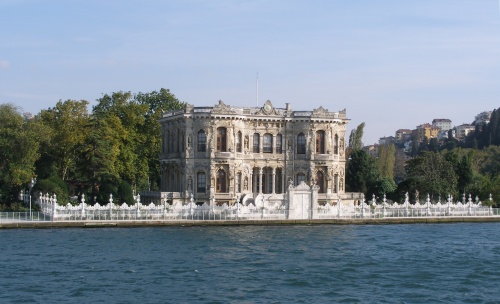 Kucuksu Palace (makes a change from all the mosques)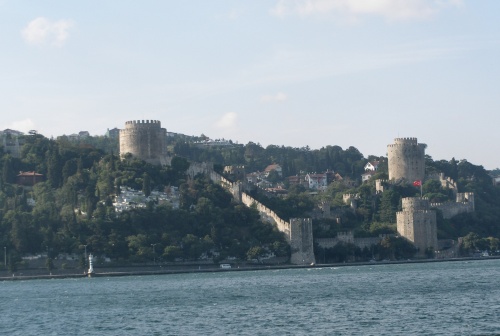 The European Fortress or Rumeli Hisari

A foaming massage Sir? Oooh Sir, suits you Sir!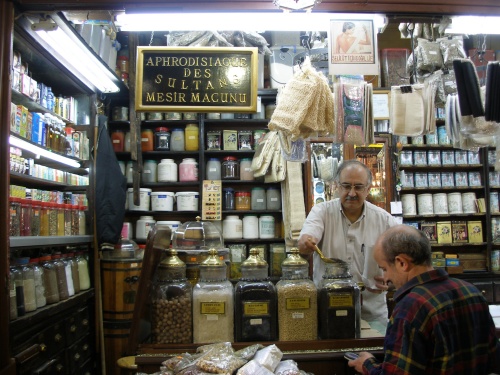 This week we have a special on newt eyes and bat's blood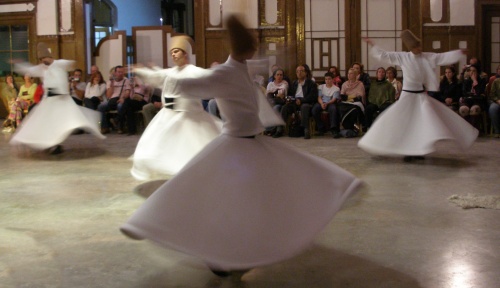 I am a Dervish, therefore I whirl