There is always something going on in Palm Springs. There is the film festival in January that attracts many famous actors, Modernism week in February, Fashion week in March, the Coachella Music Festival in April...the excitement never stops.

I've been lucky enough to meet actors, directors, authors and musicians either visiting or living here in Palm Springs. When I heard that one of my favourite actors, Karl Urban, was appearing at a comic and sci-fi expo in Dallas I had to make the trip to meet him.

American Airlines have a direct flight from Palm Springs to Dallas and I had a credit with them. The flight was late and so I also had my checked bag fee waived, which was a nice surprise. I arrived in Dallas late on Friday February 7th.

The next morning, after a better than average breakfast at the hotel, I ventured out to the Irving Convention Center. It took an hour standing in line in the near freezing Dallas temperatures to enter the Convention Center to collect the wristband for the event. Then I had to leave and stand in line for another 45 minutes to enter the Convention Center again, this time to actually enjoy the Expo. First on my list was my pre-arranged photo shoot with Karl Urban. Another hour waiting in line. Finally it was my turn; I stood briefly with Karl, a photo was taken, and it was on to the next person standing in line. This explains the slightly blank look on my face in the photo.

From there I went to stand in line for Karl's autograph. This took another hour and a half, but there were some fun people in the line that I could chat to and helped pass the time until I reached the front.

Karl's 'handler' was a woman that seemed to very unhappy to be there. She looked at me and said in a flat voice, 'name?' I smiled sweetly at her and said 'Steve'.

As she scribbled my name on a post it note and attached it to the photo I brought for Karl to sign, I said, if it's not too much trouble, could you ask Karl to sign my photo 'all my love'?

Well, I don't know about THAT!, she said. Then suddenly I was in front of Karl for the second time that day. He was very pleasant and engaged in conversation as he signed my photo and the limited edition blu rays of Dredd and Star Trek.I asked him if he'd ever been to Palm Springs (he hadn't) and gave him my card, saying if he was ever in town I'd take him and his family to dinner at teh Parker. I thanked him for being at the Expo and moved on.

There was one other person I wanted to meet, Peter Weller from Robocop. I found out where he was going to be signing autographs and waited in line. It was then that I looked at Karl Urban's autographs, and almost collapsed in surprise.

Karl had obviously been listening to my exchange with the woman that asked my name, and being a modern guy had signed my photo - Steve, lots of love, Karl. That put a smile on my face for the rest of the weekend.

It took another hour and a half waiting to reach the head of the line to meet Peter Weller. Another wonderful man that makes fans feel welcome. He signed my Robocop blu ray steelbook 'For Steve, ROBO, Peter Weller'.

Despite standing in line for many hours it was worth all the time to meet such great actors. My admiration for both Karl Urban and Peter Weller is even higher than it was before I met them. Karl's photo is now on my wall along with my other signed photos.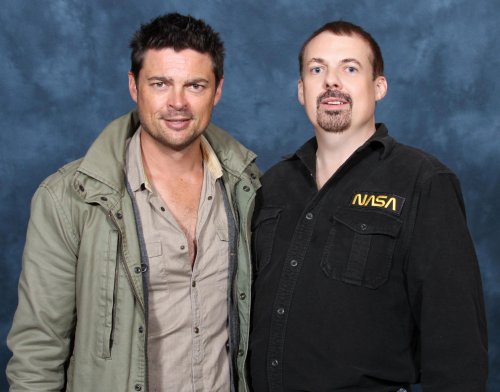 With Karl Urban at the Dallas Comic and Sci-Fi Expo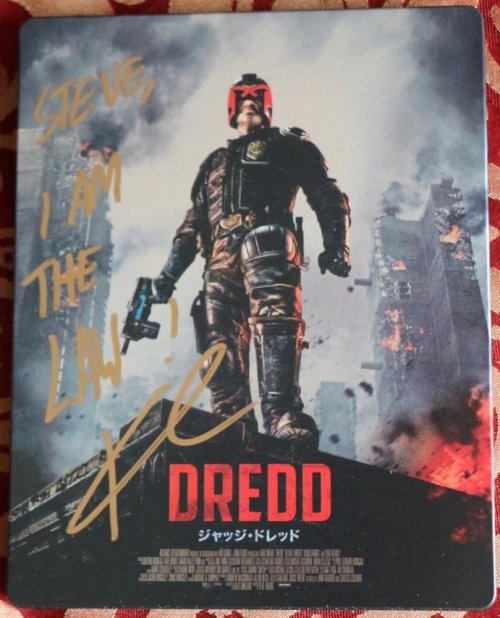 Karl signed my Dredd Japanese steelbook 'STEVE, I AM THE LAW!'

My French Dredd blu ray collectors tin, signed, STEVE JUDGEMENT TIME!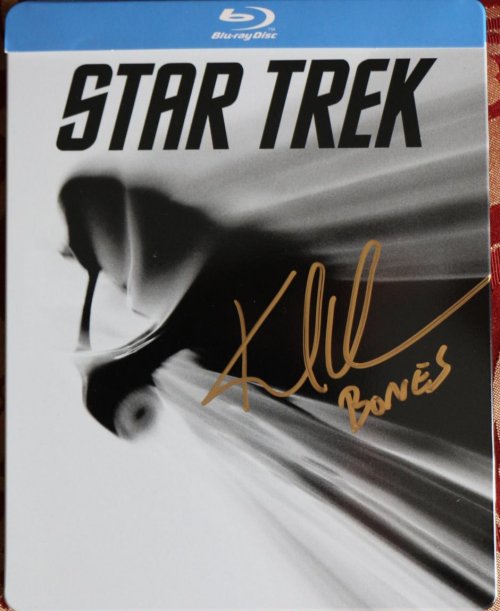 My Star Trek Steelbook signed by Karl 'BONES'

Karl surprised and impressed me when he signed my photo
Steve, lots of love, Karl.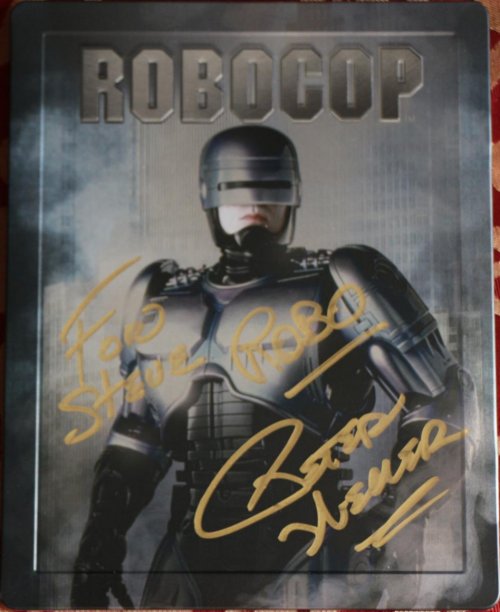 Peter Weller signed my Robocop steelbook