Ah, sometimes I wonder when I find the time to work.
After my trip to Krakow I barely had time to unpack, wash and press my clothes and jet off again. Malaysian Airlines had a stopover in Kuala Lumpur on the way to Auckland and I decided to visit another old British colonial outpost.
I stayed at the Pan Pacific hotel and my room offered a fine view of the Petronas towers from the bed. Even though KL is always hot and humid and April is supposed to be one of the wettest months, I enjoyed good weather
The tour of the city took us to view the Petronas towers first. Until very recently this was the tallest building in the world, in 2004 the Taipei 101 building surpassed it in height. Of course, even the Taipei building won't be the tallest for long, as the Burj Dubai tower is currently being constructed. Due to be completed in 2008 it will be 800 metres tall, or almost ½ a mile high!
Of course, at 553 metres tall, technically the CN tower in Toronto is the tallest, but as it is a tower it isn't regarding as the world's tallest building, and after completion of the Burg Dubai it will be a moot point. I see a new area of tourism for me now, visiting the world's tallest buildings. Next stop Taipei! There's a fascinating look at the world's tallest buildings here.
Moving back to the Petronas towers, as you can see there is a walkway between the two towers almost halfway up the building, offering some fine views over the city. The tower is supposedly designed on patterns originating in ancient islam.
From the Petronas towers we took a trip to the Sultan's Palace. The 'Istana Negara' is the official residence of His Majesty, the Yang di Pertuan Agong, the King of Malaysia. You can't go into the Palace, but you can take plenty of photos and watch the changing of the guard there.
Fond memories of my trip to Cairo returned when I discovered that no tour of KL is complete without the obligatory SHOPPING OPPORTUNITIES! Yes, when in KL you will visit the leather goods shop and the Batik factory (in Cairo it was carpet, papyrus and perfume). While batik does almost nothing for me, it was interesting to see how it is made and the different qualities of fabric and design. The leather shop was a little more interesting though. I didn't expect to be impressed, even though I do have a 'thing' for leather, but one item caught my eye. I'd never seen stingray leather before and was very impressed with the way the processing created such a unique looking skin.
Samurai used stingray skin for armour; it was once believed to bring strength and power and be a protector of good luck and prosperity. The shop we visited had stingray leather wallets and purses in all different colours and designs, some of them were pretty wild! I chose a plain black wallet. The leather has a shiny pebbled texture, almost like black pearls, with the white pearl feature that evolved from the stingray's dorsal fin. I'm now hooked on stingray leather and I've ordered a pair of hiking boots made from stingray!
Continuing the tour, we saw mosques and old colonial British buildings before arriving at Merdeka Square (Freedom Square). Once a cricket field (us Brits and our cricket!) in 1957 Malaysia declared it's independence and Freedom Square was the result. Overlooking the square is the Sultan Abdul Samad building designed by a British architect and built in 1897.
The final stop on the tour was the KL Tower. The tower is 421 metres high and because it was built on a hill there are great views of the Petronas towers and the rest of the city.
One of the more unusual offerings in Malaysia is their range of massage and spa treatments. I was intrigued to read in the magazine in the hotel that Nature's Gift Treatment Spa offered a 'Manhood Supreme Package'. This offers a traditional penis wrap in a blend of deep sea eel oil and tongkat ali herb, a concoction used in the treatment of sexual problems to 'enhance the healing essence'. The rejuvenating hand of masters masseurs will accurately stimulate the pressure points to 'bring up the man in you'. I didn't try it, but I am sure it is an unforgettable experience.
Next stop Auckland!
Arriving in Auckland I met two friends, Steve and Mike, that once lived in Putney, London. They moved to New Zealand in late 2004, swapping the hectic life of London for a more tranquil time in kiwiland.
The last time I was in Auckland the Sky Tower was being built (it opened in March 1997). It's the tallest tower in the southern hemisphere and is the focus of some thrill seeking entertainment, such as the sky jump - where you jump by wire from the top of the tower to the ground 630ft below - and the vertigo climb to the top of the sky tower mast. But my first stop on this trip was to Kelly Tarton's Antarctic Encounter and Underwater World. One of the fun things to do is take a snowmobile ride through the penguin world, seeing all kinds of penguins, such as the Adelie and Gentoo from my own Antarctic voyage, to the huge Emperor penguins. There's also an underwater walk where you come up close and personal with a huge variety of fish, including sharks and stingray!
Thanks to the magnificent harbour Auckland has earned the tagline 'the City of Sails'. There's lots to do on the water and there are some wonderful islands to explore too. I went to Waiheke Island, which has sandy beaches, bush, vineyards and sleepy seaside villages, just 35 minutes away from Auckland.
My time in Auckland was short and soon I was flying off to Perth, an even longer trip than from london to New York I soon realised!
Arriving in Perth I was met by my friend Derek. I met Derek over ten years ago on a visit to Sydney. Despite my moving once in that time when I bought my own home and Derek moving from Sydney on the east coast to Perth on the West coast of Australia, we still managed to keep in touch. I sometimes think when things like that happen you're meant to stay in touch.
That evening we went to Kings Park and Botanic Garden, that offers great views of the city. With almost two thirds of the 1000 acres of the Park being bushland there is a great variety of native plants and birds. There is also the State War Memorial for those who died in the service of Australia.
The next morning we were off to meet some Australian wildlife up close and personal! Cohunu Koala Park, at the top of the Darling Range, offers the chance to meet wombats, dingoes, kangaroos and emus; talk to the chatty parrots and even cuddle a koala!
Koalas are not native to Western Australia and this is one of very few places where you can cuddle a koala. Cohunu has over 25 koalas in the park. Koalas live almost exclusively on eucalyptus leaves, but these have very little nutritional value, so the koalas sleep from 18-20 hours per day. Koalas in the wild live from 10-14 years on average but in captivity they often live much longer. Cohunu is where I met my new girlfriend, Matilda. I've included a photo of us below.
Another fun thing to do is visit Swan Valley Chocolate Factory. There's information on the history of chocolate, a window onto the chocolate making area, and lots of chocolate and related gifts. They even have plenty of free samples, so you can indulge in a chocolate binge!
Not far from Perth is intriguingly named Rottnest Island, or Rotto. The island acquired its name from the explorer Willem de Vlamingh who mistook the quokkas (small wallabies which inhabit the island) for rats and named the island 'Rat's Nest Island; or, in Dutch, Rottenest Island. The 'e' was dropped. The Rottnest Island Railway offers a guided tour of the island, there is a bus service but there are no cars so many people ride bikes.
One of my main reasons for visiting the island was to see the infamous Quokkas. Quokkas are herbivorous marsupials about the size of a cat and around 10,000 live on Rottnest Island. They are very friendly and curious animals and I think they are just great.
My last proper stop on this trip was Melbourne, but on the way I stopped off for a night to see Ayers Rock once again. I have to say that this time around I was a little disappointed. I think that once you've seen Ayers Rock from every angle as I had (from a helicopter, at night, in the morning) then there's really not much more to do. Also on this trip the flies were constantly and annoyingly present, something I'm told is a given at the Ayers Rock Resort but I was most fortunate to have avoided on my last visit.
I stayed at Curtin Springs, about 60 miles east of Ayers Rock. I'd hoped to go for a camel ride there, but they had stopped them. This may be due to 'health and safety' issues; on my last trip I went on a camel ride and you were made to wear a pretty silly looking safety helmet so it may be that the cost of insurance was too much for them.
One interesting feature at Curtin Springs is Mount Conner. Like Ayers Rock this is a natural monolith.
I was looking on the internet at monoliths and it's very interesting to see how much confusion there seems to be about the world's largest rock or monolith. Many say Ayers Rock (Uluru) is the largest monolith in the world, others perhaps more cleverly describe it as the 'greatest' monolith.
It's generally accepted that the largest monolith in the world is Mount Augustus, in Western Australia (850 km north of Perth). Ayers Rock is the second largest. So if you are visiting Ayers Rock, surely you owe it to yourself to see Mount Conner, the third largest monolith in the world.
Flying on from Ayers Rock I arrived in Melbourne where I once again met Gerry, sister of my friend Chris. I did some general Melbourne sightseeing, met Gerry's two sons, drove around St. Kilda and drank alcoholic slushies, and indulged in a little shopping at my favourite Melbourne clothing store, PERVERT! If you want to bring out the prvert in you, visit http://www.pervert.com.au/
Gerry and I also took a visit to Melbourne Aquarium, that in some ways was even more amazing than Auckland's Kelly Tarton. Feeding time at Melbourne Aquarium is not to be missed; the sight of divers feeding sharks, stingray, turtles and assorted fish is a frenzied and fascinating spectacle. They also have a tank with a very amusing starfish as you can see from my photo.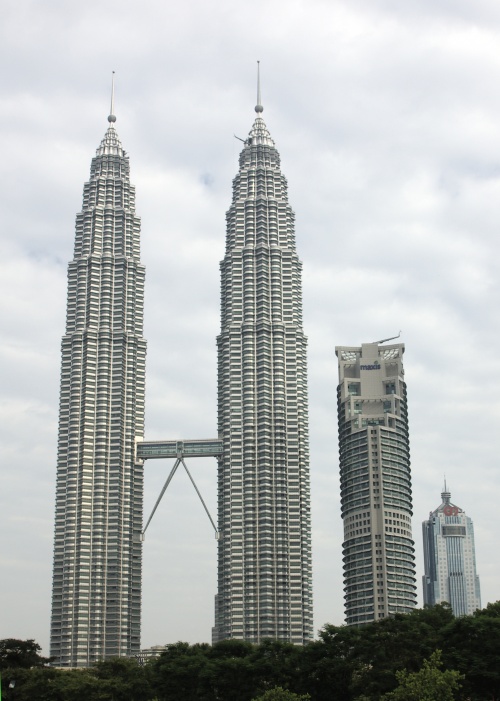 The Petronas Towers - once the tallest in the world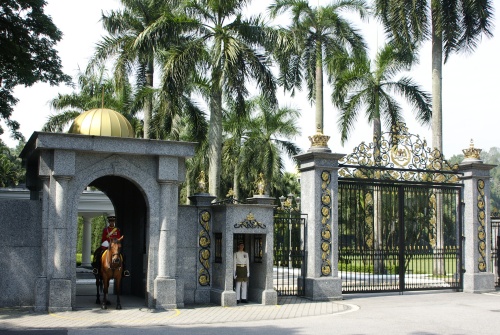 The main gate of the palace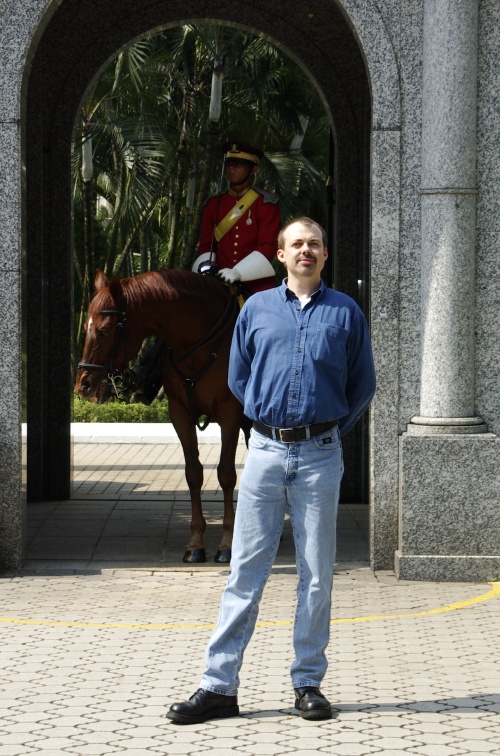 Posing outside the palace

By Merdeka Square, the Sultan Abdul Samad building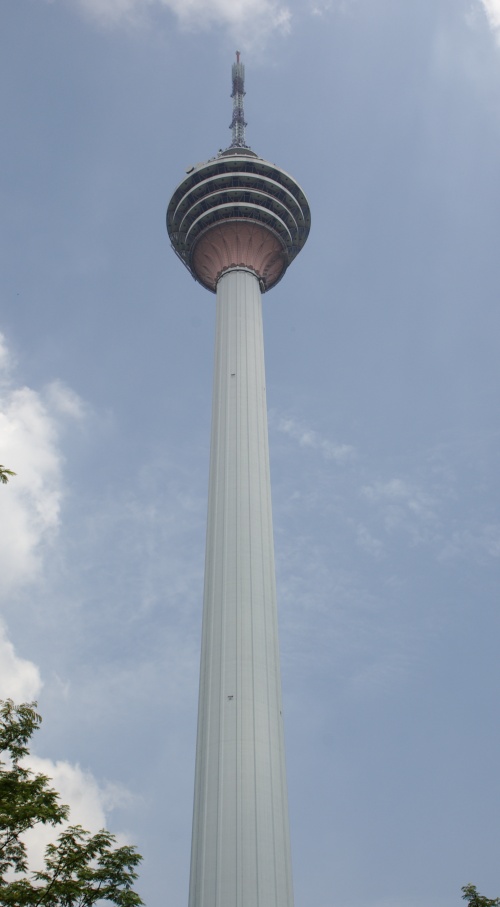 The KL Tower

From the KL Tower you get a great view of the Petronas towers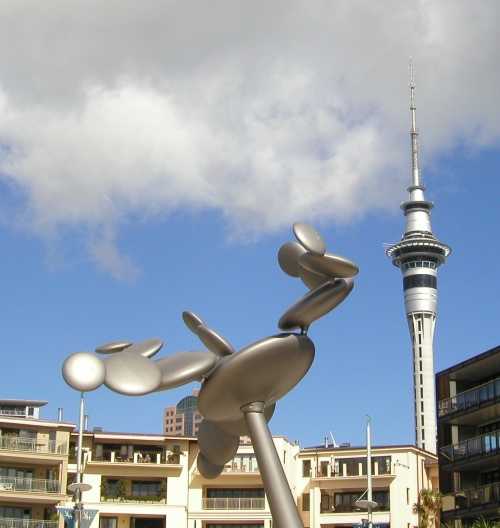 A view of the Sky Tower from Auckland Harbour

Looking up at the Sky Tower from ground level

The Sky Tower from Auckland Harbour

One of Kelly Tarton's residents

Perth by night from Kings Park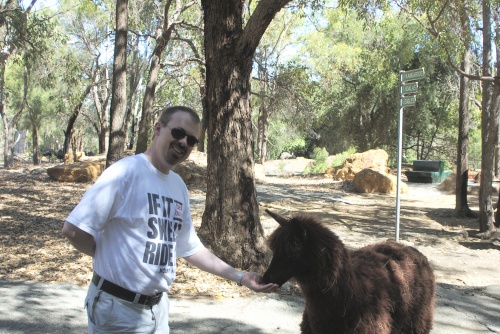 Feeding a llama at Cohunu Wildlife Park

My new girlfriend - Matilda, the koala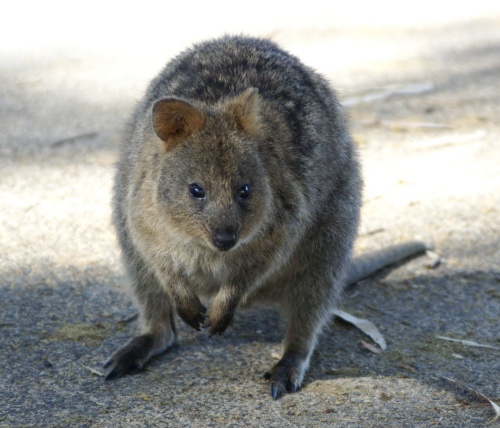 A Rottnest Island Quokka

Derek tries to make friends with a quokka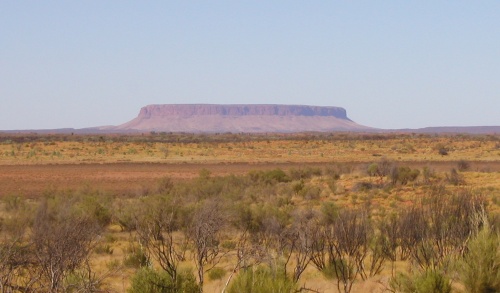 Mount Conner, about 60 miles from Ayers Rock

In Melbourne Aquarium, a rather amusing starfish