From Easter Island I changed planes at Santiago and flew on to Lima. I had booked a tour of Peru through Peru Tours and Travel (aka Best Peru Tours) and a driver, Pablo, was waiting at the airport to take me to my accommodation in Miraflores. It was a very attractive apartment with comforts of home, including a computer to check emails.

The oldest known civilisation in the Americas, the Norte Chico, once lived in what is now Peruvian territory. It was also home of the Incan Empire.

The climate varies from desert in the south to the lush Amazon rainforest in the north east.

I had decided to take in the major sights on what I discovered is called the 'gringo trail'. This takes in Cusco and Machu Picchu, Puno and Lake Titicaca, the Nazca lines, Paracas and the Ballestas Islands.

I had a free day to explore Miraflores and wandered to the Larco Mar shopping centre set into the cliffs overlooking the beach. From here you can see pier 4 and the La Rosa Nautica restaurant.

Close by is the El Parque del Amor or 'Love Park'. It was opened in 1993 and features mosaic walls with romantic inscriptions and a large sculpture 'El Beso' of two lovers embracing by Victor Delfin.

The statue celebrates lovers who meet to watch the sunset on the Pacific Ocean. It is said that locals compete for the longest kiss under this statue.

The poet Antonio Cilloniz lamented that "In the cities, they do not build monuments to lovers". This helped persuade Miraflores to create the love park and his words can be found under the statue.

The the Plaza de Armas, or Plaza Mayor, is the historic heart of Lima. On the north side is the government palace where you can see the changing of the guard at 12.45pm.

A short walk from the Plaza is the church of San Francisco. Built in 1674, this is the most visited church in Lima and is considered a beautiful example of Baroque style. In the adjoining monastery there are catacombs filled with the bones of tens of thousands of human skeletons!

The monastery also has an impressive collection of religious art. The artists in Peru were very good at adding their own unique perspective to European religious art and a famous example is of the last supper, depicting the apostles dining on guinea pig and a devil standing next to Judas.

Another fascinating place to visit is the Larco Museum. It is a privately owned museum in an 18th century mansion built over a 7th century pre-Columbian pyramid in the Pueblo Libre District. The Larco Muesum showcases 4,000 years of Peruvian pre-Columbian art. It has one of the world's largest collections of pre-Columbian art including Moche, Nazca, Chimú, and Inca pieces and is well known for its gallery of pre-Columbian erotic pottery.

The Larco Museum's website can be found here.





The pier at Miraflores where you will find the La Rosa Nautica restaurant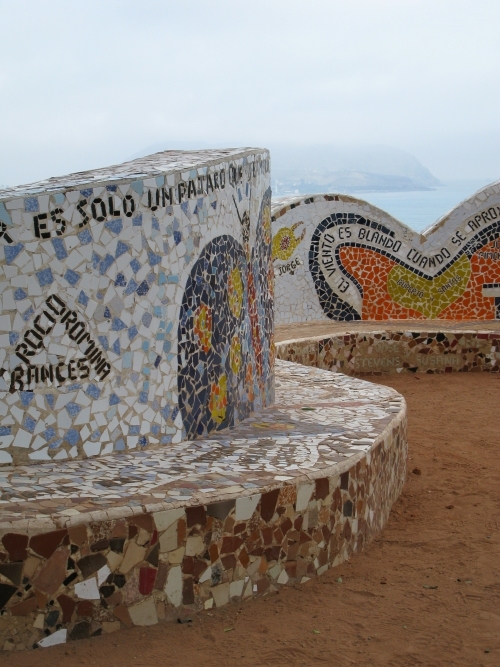 The mosaics and inscriptions in the 'love park'

The 'El Beso' sculpture - lovers embrace in the love park

One of the Larco Museum's pre-incan ceramics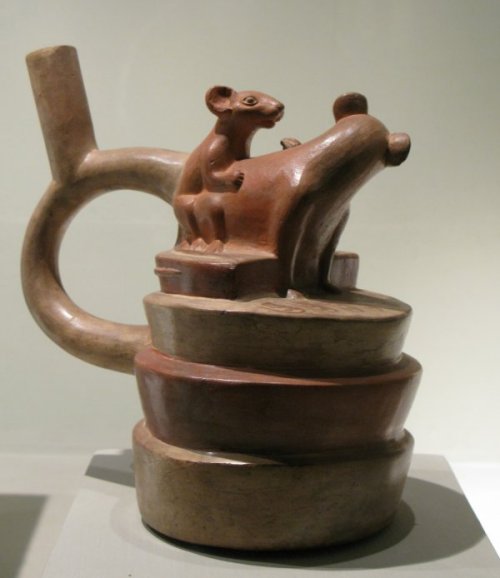 An example of the Larco Museum's sexually vibrant Moche pottery