Another of my regular visits to Palm Springs, this time taking in Joshua Tree, the Mojave National Preserve, Las Vegas and the Grand Canyon!
Palm Springs, as almost always,
provided the most wonderful weather for lying by the pool and enjoying the sun.
It seems I can never sit still though, so before long I was off to meet my good friend Laurie who had made a trek from Amarillo Texas to see friends and family in Southern California. We met in Amboy, which was once an important stopping off point on Route 66, but now has a population of 20.
Amboy apparently makes most of it's money from people that use Amboy's 50's look for photographs and movies, the cafe has lots of signed portraits of famous actors. However, the guy we spoke to in the cafe was VERY strange, not only had he been 'spying' on Laurie with binoculars before I arrived, but kicked up the most amazing fuss when we wanted to take a couple of photos of the 'Roy's Cafe' sign.
I can only assume that, even though I didn't think I was dressed for the part, he imagined I was doing a photo shoot for a Ford Mustang!
Another poor British couple stopped off for a coffee and were given no end of grief when they wanted to use the restrooms, that were worse than many campsite facilities I've seen! If you want to use a restroom when passing though Amboy, I suggest driving to the crater and using the facilities there. A far more pleasant experience.
I've been told that Amboy is up for sale, and to be honest I'm not surprised!
A little south of Amboy is Joshua Tree National Park, a fantastic place to spend some time. You do have to pay to travel through it, but the scenery and wildlife are extraordinary. Not only are there some amazing rock formations, there are of course the Joshua Trees, Yuccas, jackrabbits, roadrunners, coyotes and more! A great site to find out more about Joshua Tree National Park is www.joshua.tree.national-park.com
Heading north from Amboy towards Las Vegas you find yourself deep in the Mojave National Preserve, surrounded by more strange rock formations and Joshua Trees. But its not such a very long time before you reach the interstate and soon Las Vegas is upon you.
On this trip I did something I've wanted to do for a long time, visit the Grand Canyon in a helicopter. I had been to the Grand Canyon once before in a light aircraft, but lets just say the experience wasn't totally pleasant as the thermals make for an extremely bumpy ride!
I took the Golden Eagle Airtour with Papillon Helicopters, a friendly company that really makes you feel welcome.
Flying by helicopter was spectacular;
there were great views of Las Vegas, the Hoover Dam and the Grand Canyon plus the advantage of flying in a helicopter means you can literally dive into the canyon, landing on the bank of the Colorado river at the canyon floor.
I would recommend a flight with Papillon and will certainly be flying with them again when I'm next in Las Vegas.

Here is a photo of the front of my condo complex in Palm Springs.

In Amboy, on the way to Las Vegas. On what was once Route 66.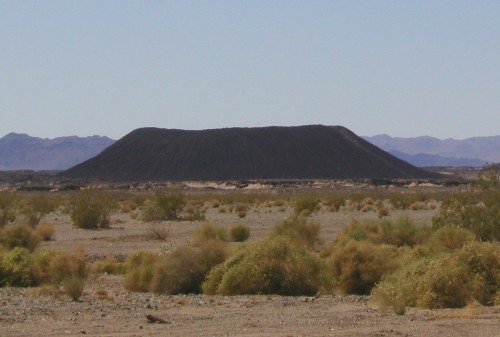 The Amboy crater!
There was a volcanic eruption around 6,000 years ago that created this 250 ft high crater. You can drive to within a mile of it, then walk the rest of the way. Be sure to carry some water with you and look for landmarks, you lose sight of your vehicle very quickly.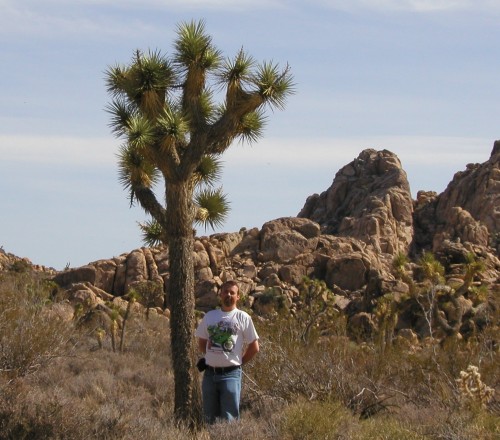 Posing with an obliging Joshua Tree.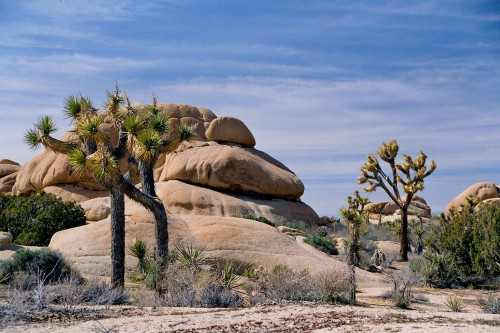 I've always thought Joshua Tree looked like some alien planet from a science fiction movie.

Could this Joshua Tree be hiding in the rocks?

The Luxor Las Vegas at night. The pyramid shaped hotel shoots a bright light into the sky that can be seen for miles around.

A shot of the Hoover Dam, grabbed quickly from the window of the helicopter as we flew past.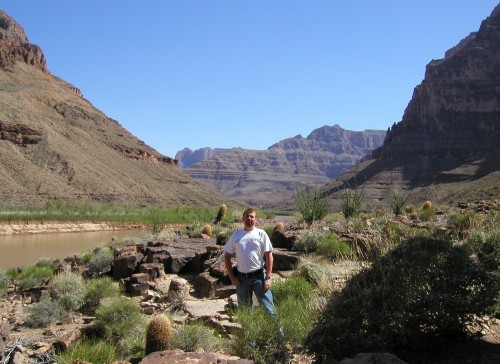 I was quite pleased with this photo I took of myself by the bank of the Colorado river at the bottom of the Grand Canyon. Self timers are wonderful things.