After leaving my job as IT Manager (a story in itself) I decided to take another trip to Palm Springs to check on the condo, catch up with some friends and pick up some goodies that were waiting for me - even if I had previously felt like never going to the US again. I think perhaps I was so disappointed that Blair was back in power in the UK visiting the US didn't seem so bad after all.
My tenant, Frank, was having continuing problems with the woman that lives above him. Mara Getz is a 'lounge singer', but she is known to come home at 4am, slamming doors, exciting the dogs, tap dancing and generally being mean. She preaches a lot of new age 'tree hugging' stuff, saying that it isn't her fault the sound travels (blah blah), when in actual fact it's her fault for her inconsiderate attitude - if she bothered to give thought to the matter she might realise that living in a ground floor (first floor in the US) condo would cause far less trouble than the condo she lives in, which is above my tenant.
At least the home owner's association have finally written to her to warn her of her behaviour.
I spent most of my time in Palm Springs doing very little, lying by the pool and relaxing. I did go out to the cinema and see a few movies I'd been promising myself I'd see. I also picked up a piece of equipment that I feel very excited to own. No, not the latest portable multimedia gadget, but a clock.
This clock is based on vacuum tubes, called nixies, from "Numerical Indicator eXperimental". These tubes were used in early calculators and test equipment from the 50's to the 70's, until the first LEDs appeared.
Now we are into the 21st century I've started to wonder if 'excellence' is disappearing from human endeavour. Concorde, a stunning aircraft that I discuss on another part of my site, has been taken out of service and huge aircraft with cheap seats are now the norm. Vinyl gave way to CD (that some said was inferior); it seems that mp3 is now the dominant format for music delivery and formats like SACD and DVD Audio sit unsold on the shelves.
As I am now officially a grumpy old man, I thought it was time to go retro. My friend Robin saw a nixie clock in the San Francisco Museum of Modern Art, and bought one a couple of years ago. I bought one some time later, after the nixies had worked their spell on me, but I wasn't satisfied with a small and simple clock. After all, we are in the 21st century, so why not take a great idea from the 50s and add some 21st century technology to it?
I started looking on the internet and on ebay for all things nixie and found a site run by Jeff Thomas in Arizona. I think he must be a mad scientist, he likes electric trucks, nixie clocks, and even designed a nixie wristwatch. You can see his site here.
I emailed Jeff to say how much I admired the nixie clock based on the Z568M tubes (one of the largest ever made) and that it was a shame that they were all sold. I received an email in reply saying that an order had fallen through, two NixiSat clocks were still available! So $900 later a great Nixie clock was on it's way to my condo in Palm Springs.
This clock uses GPS technology to set and keep time (it can give you latitude and longitude as well if you want). It also has a temperature sensor and alarm function. It also looks fantastic. I'm now thinking about building one for myself from a kit.
Getting back to the US trip, I went to Las Vegas for a couple of days to meet Laurie who'd flown in from Amarillo to see me. We stayed at the Las Vegas Hilton so we could take advantage of the Star Trek 'Nemesis' package. It was great fun going on the Klingon Encounter, hearing Laurie scream as the shuttlecraft shot through space avoiding klingon warships, or experiencing the Borg 4D attempts at assimilation (more screams from Laurie as the chair pokes you in the back).
We went for a walk down the strip that evening and enjoyed the sights; the Bellagio fountains, Mirage volcano, the endless neon, sniggering at the 'nightly strip rides' sign.
The next day we took off to Utah to see Bruce Canyon. This was a new experience for me; having been to California, Nevada and Arizona before but never venturing into Utah. We waved goodbye to sin city and drove north east on the I-15, just slipping into Arizona for a few miles before arriving in the Mormon lands.
We didn't have any idea of just how long a drive this was going to be, but as the hours passed we eventually made it to Bryce Canyon and were welcomed with some great views. On the return to Vegas we passed through Zion National Park and saw more amazing sights.
The next day Laurie returned to Amarillo and I began the drive back to Palm Springs. I usually drive through the Mojave; from Palm Springs driving through Yucca Valley, 29 Palms, along Route 66 to Amboy, then north to Kelso and Cima; but this time I took the I-15 from Las Vegas to Barstow, giving me the chance to find Zzyzx.
Zzyzx is not on any map as far as I know. Zzyzx Road is a 4½ mile dirt road leading to Zzyzx Springs. In 1944 Curtis Howe Springer built a hotel, church, radio station and spa on Mojave desert land (that wasn't his). For around 30 years he broadcast a daily religious and health programme, urging people to buy his restorative potions and to stay at his 'spa hotel'.
Finally in 1974 federal marshals arrested him for unauthorised use of federal land, he was evicted and jailed for a short time. Zzyzx is now the Desert Studies Center. The name Zzyzx has been used by science fiction writers, computer peripheral resellers and motorsports companies.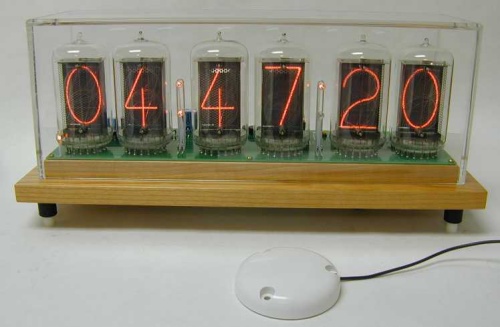 The NixiSat clock, a classic timepiece

The Las Vegas nightly Strip rides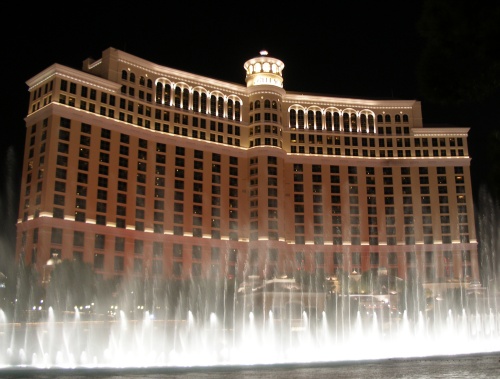 The Bellagio with the dancing fountains

Paris, Las Vegas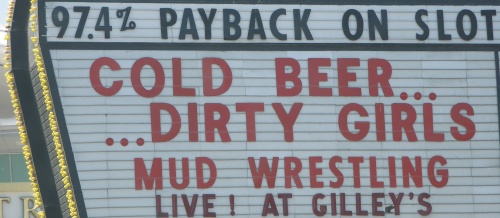 Cold beer and dirty girls! What a combination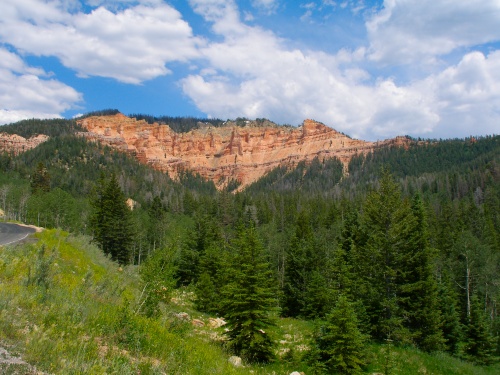 On the road to Bryce Canyon

Some of the Bryce Canyon spires

Rainbow Point - Bryce Canyon
The rich colours of the Claron limestones, sandstones and mudstones

On the way to Palm Springs from Las Vegas - Zzyzx Road