I stayed with my friends Mike and Steve in Auckland's Freemans Bay. They have an apartment with beautiful views over the city. It was easy to walk or take a bus into the heart of the city and harbour.

Auckland is New Zealand's largest city with almost one and a half million people. The Sky Tower, part of Skycity casino, can be seen all over Auckland. It's 1,076 ft tall and offers a range of dining options and observation decks, along with the guide cable controlled 'SkyJump' experience.

The Sky Tower was used to great effect for New Year; streams of multicoloured fireworks lit up the tower and the city.

Western Park is one of the city's most distinguished open spaces in the suburb of Freemans Bay. There are three sculptures in the park by John Radford; pieces of buildings buried in the ground to look like old ruins.

The next part of my journey was from Auckland to Wellington on the Tranz Scenic Overlander train.





A view of Auckland's Skytower from my friends apartment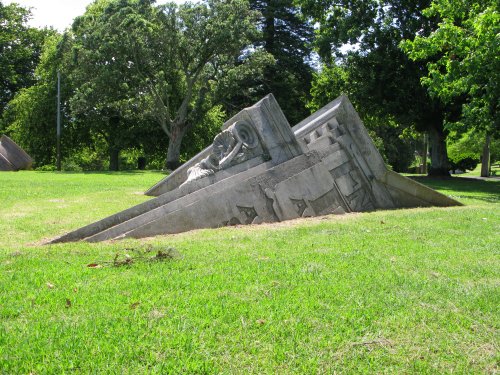 Buried buildings in Western Park from sculptor John Radford

New Year's Eve with fireworks at the Skytower