OK, so we were crazy.
We decided to visit Pendulum Cove at Deception Island, to do something quite insane, to take a dip in Antarctic waters and join the Deception Island swim club.
We went ashore, grabbed a towel, then stripped off for a photo of us all lying on the volcanic cinder beach without a care in the world.
Then we went for a swim. The first few feet of water weren't too bad, but the further you went from shore the colder it became!
Poor Jamie became an unwitting 'calendar girl' for us, the forced smile is due to not being able to feel most of her body after the swim!
Also I caused a major stir when I stripped of to reveal my hot pink 'speedo'. It's alleged that the Captain of the Multanovskiy couldn't believe what he saw and had to grab his binoculars to check!
Needless to say that it soon became the stuff of legend, and before the end of the day had come to be thought of as a pink leather thong!
Oh, and rumours of a new species of penguin called a 'jockstrap penguin' are entirely unfounded.
For any other exhibitionists out there that want to make a statement in Antarctica (or anywhere else), you too can have a hot pink swimsuit from Skinz at www.skinzwear.com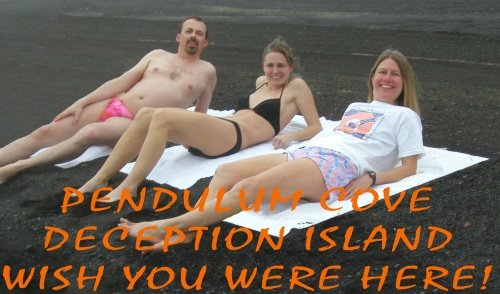 Grabbing an Antarctic tan at Pendulum Cove

Michael, Steve, Jamie, Mary and Tony take in the ambience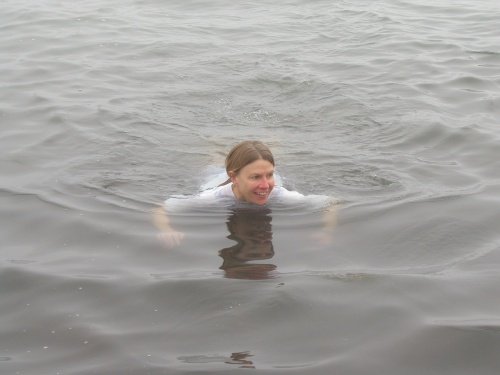 Mary takes a swim at Pendulum Cove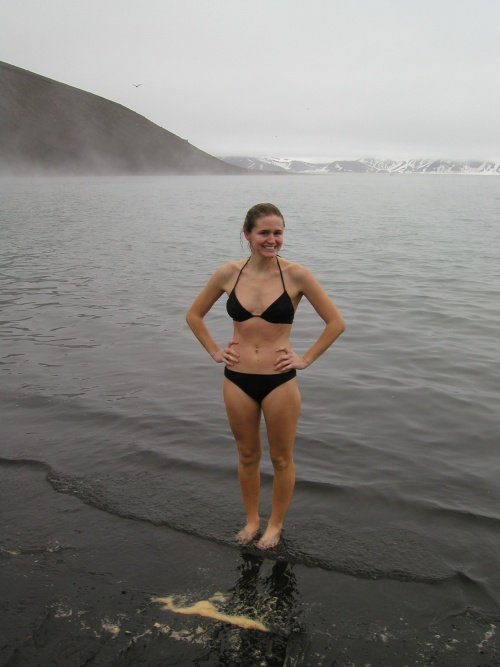 Jamie becomes Deception Island's pin-up girl!